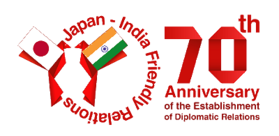 NEDO is a national research and development agency that creates innovation by promoting technological development necessary for realization of a sustainable society.
NEDO acts as an innovation accelerator to contribute to the resolution of social issues by developing and demonstrating high-risk innovative technologies having practical application.
Play NEDO's Introductory Video in HD
Focus Nedo

Focus NEDO is a quarterly PR magazine published by NEDO, having News and Information on present and future of Energy, Environment and Industrial Technology. To access and download the PDF version, Click to link below.
View More Focus NEDO (NEDO Official Journal)
Addressing Energy and Global Environmental Problems
NEDO actively undertakes the development of new energy and energy conservation technologies. It also conducts research to verify technical results. Through these eff orts, NEDO promotes greater utilization of new energy and improved energy conservation. NEDO also contributes to a stable energy supply and the resolution of global environmental problems by promoting the demonstration of new energy, energy conservation, and environmental technologies abroad based on knowledge obtained from domestic projects.
Enhancing Industrial Technology
With the aim of raising the level of industrial technology, NEDO pursues research and development of advanced new technology. Drawing on its considerable management knowhow, NEDO carries out projects to explore future technology seeds as well as mid- to long-term projects that form the basis of industrial development. It also supports research related to practical application.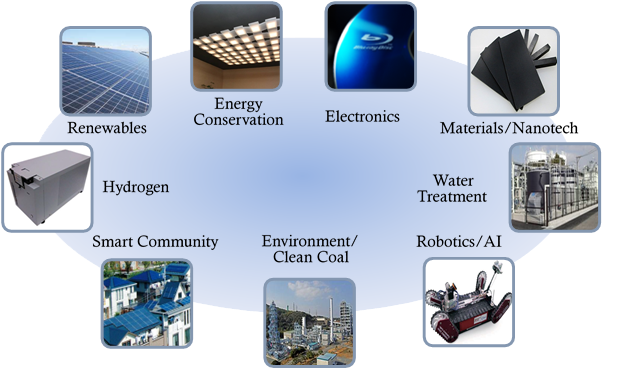 Positioning of NEDO as an Innovation Accelerator
In order to contribute to the resolution of social issues, NEDO formulates technology strategies and project plans and, as part of its project management, establishes project implementation frameworks by combining the capabilities of industry, academia, and government.
NEDO also promotes technology development by carrying out, evaluating, and allocating funding to promising projects to accelerate the practical application of project results.

1974

Japan's long-term Sunshine Project to develop new energy technologies started

1978

Long-term Moonlight Project to develop energy conservation technologies started

October 1980

New Energy Development Organization established under the Law Concerning the Promotion of the Development and Introduction of Alternative Energy

1982

Alcohol production business activities transferred from the government

October 1988

Industrial technology research and development added; name changed to New Energy and Industrial Technology Development Organization

1993

New Sunshine Project started

1996

Coal Mine Damage Agency integrated; coal mine damage compensation program added

2001

Based on the abolition of the Alcohol Monopoly Law, alcohol sales operations added

October 2003

Incorporated Administrative Agency New Energy and Industrial Technology Development Organization established under the Act on the New Energy and Industrial Technology Development Organization

2006

Alcohol production and sales operations transferred to a special corporation; Kyoto Mechanism Credit Acquisition Program added

2007

Coal mine damage recovery transitional operation completed

April 2015

Redesignated and renamed National Research and Development Agency New Energy and Industrial Technology Development Organization to reflect the enforcement of a partial amendment of the Act on General Rules for Incorporated Administrative Agencies and the Act on the New Energy and Industrial Technology Development Organization

2016

Kyoto Mechanisms Credit Acquisition Program Discontinue
NEDO Team
Yoshiro KAKU
Chief Representative of Branch Office in India
He has worked at METI for about 20 years. Prior to the position, he was engaged in policymaking regarding technological innovation such as the revision of Japan's IT Strategy and Roadmap for utilizing drones. In addition, he contributed to the rule amendment for effectively protecting critical trade secrets.
He has also been involved in environment and energy related policies. He was a member of the study team for drafting Japan's Long-term Strategy under the Paris Agreement. Moreover, he was in charge of policies for promoting waste disposal and recycling, and securing natural resources including rare metals.
Besides above, he was engaged and have experience in reconstruction of the area affected during the March 2011 Great East Japan Earthquake.
Mr. Kaku has graduated from the University of Tokyo, Faculty of Law, and earned LL.M. (Master of Law) from the University of Pennsylvania Law School. He was also a visiting scholar at the Berkeley Center for Law and Technology.